DATE:

AUTHOR:

The Buildertrend Product Roadmap team
🎉 New
✨ Improved
Job Site Communication
Customer Communication
Financial
March 13-17 Buildertrend updates
DATE:
AUTHOR: The Buildertrend Product Roadmap team
New Online Payment Ledger expands your financial reporting
We're excited to say our new Online Payment Ledger is now live! You can find your ledger inside your Online Payment Report and see new tabs for Transactions, Deposits and Payments. This ledger allows you to save time and ensures accounting accuracy for incoming payments, online bill payments and QuickBooks integration.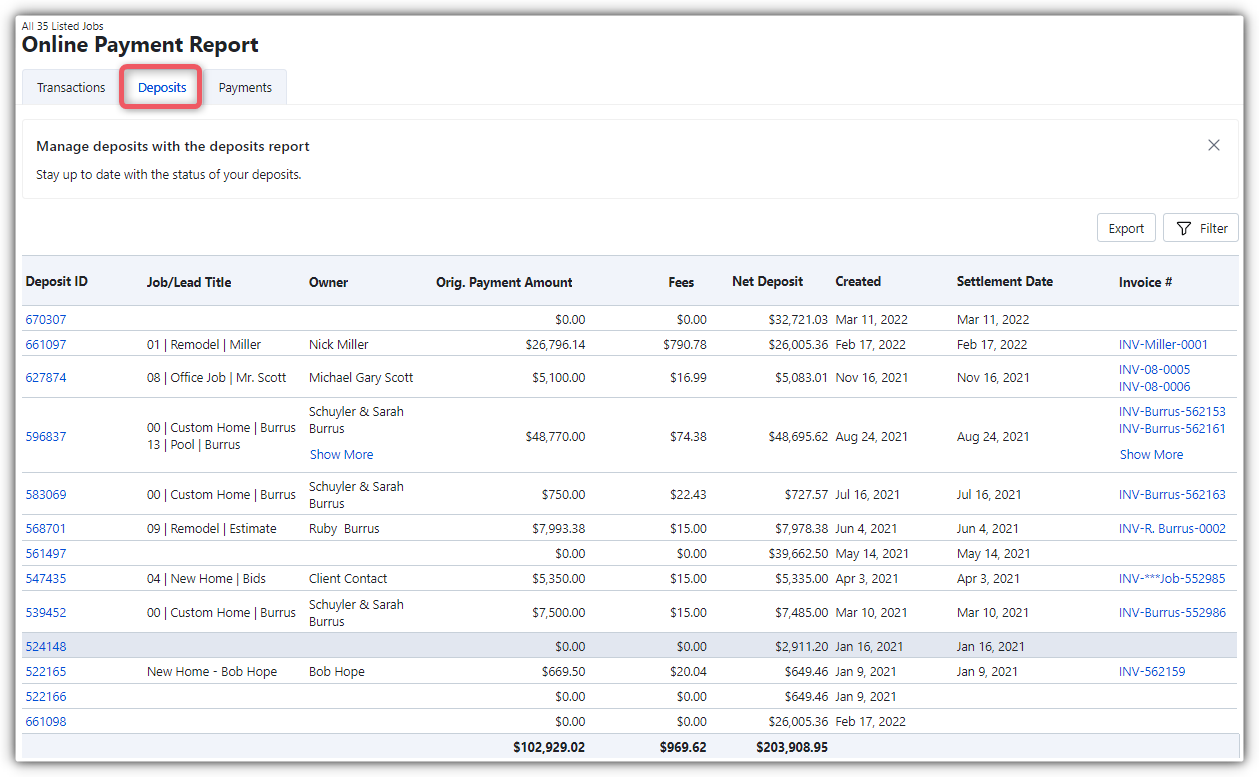 What else went live?
In case you missed it, we made changes to several of our most-used features, based on feedback from customers like you.
Save and Close button | Make every click count with the new option to save and close some items in a single action.

Saved signatures | Save time and create consistent tracking by saving signatures for use across the platform.

More prominent Close Job button | We changed the Close Job function to a button to make the job's status more obvious.

Cost Catalog filter | A new filter now appears when multiple cost catalog items are selected. This filter allows you to sort by keyword or cost code within a selected list to find your results faster.

Create To-Do's more efficiently | Quickly create To-Do's from Daily Logs and Messages. Notes and attachments will be automatically populated.

To-Do incomplete checklist item warning | If there are open checklist items when To-Do's are completed, a notification will appear to alert you.

Add more schedule item predecessors | We increased the max number of schedule item predecessors from three to five.

Folder contents indicator | A new Contents column within Documents has been added to allow you to quickly see if a folder has contents, and what they are.

Retained resolution for signed documents | Signed documents will now maintain their original resolution, so you can clearly see the contents of the document and what was signed.

Daily Logs in clients' Recent Photos | Photos attached to a Daily Log will now appear in the Recent Photos section in the Customer Portal.

Filter Daily Logs by creator | A new filter option allows you to sort Daily Logs by creator, making it easier to see what specific crew members or subs have noted.
Now in Progress
We're actively developing two updates to improve our Comments feature:
Visibility of unread comments and comment counts | We're adding a comment count showing you how many unread comments you have and visual indicators to help you differentiate between read and unread comments. This will improve the efficiency of our Comment tool and highlight what still needs your attention.

Updated text and edit options for Comments | We're adding text and editing options to our Comments tool. You'll have the ability to highlight text, choose font size, include emojis and add images from Buildertrend.
Visit the roadmap cards to learn more and provide feedback
Click the links to view full summaries. We welcome feedback on each of these releases, at any stage. If you have questions about recent updates, contact our Customer Success team at 888-415-7149.
If you'd like to provide feedback please use the What do you think of this roadmap item? button inside the release card.