✨ Improved
Job Site Communication
Project Management
Faster To-Do's and Checklist workflow
What's new?
We're making it faster and easier for you to fill out and review To-Do information. Reformatting the To-Do feature will bring the most essential information to the top of the page (e.g. Title, Assigned to, Notes, Due Date).
You can click 'Show More' to reveal additional information like: Reminder, Tags, Priority, and Attachment fields.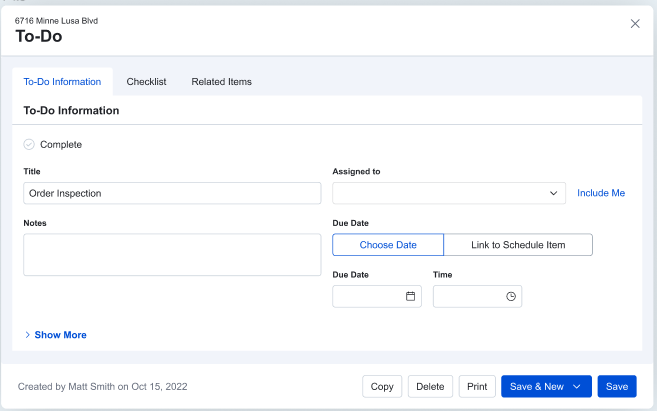 The Checklist function will now be its own tab with enhancements that include:
The Completed status checkbox will now be a circle, to avoid confusion.

Attachments and assignees can be added to individual checklist items.

A Delete Item option will be added to checklist items.

---
How can I provide feedback on this release?
To provide suggestions click What do you think of this roadmap item? on the left side of the page.
We regularly review feedback in order to continuously improve Buildertrend. By analyzing this feedback we can identify areas for improvement, prioritize development efforts, and make enhancements that will better meet your needs. This ongoing process of review and improvement helps us ensure Buildertrend remains a valuable and effective tool.
How can I learn more?
To receive emails on the movement of this release or learn about iterations and updates, click Subscribe.