STAGE:

🚀 Recently Launched
Add & track taxes on owner invoices (US)
STAGE: 🚀 Recently Launched
What's new?
We now have a formal way to include U.S. tax on cost items, so you can track taxes on revenue or expenses and feel confident with your financial records.
This release uses U.S. QuickBooks Online, so if you're integrated with Buildertrend, you can collect the proper amount of sales tax through Owner Invoices. This way you don't have to consolidate differences between your Buildertrend invoices (formerly without tax) and QuickBooks invoices (with tax).
If you're a U.S. user that doesn't integrate Buildertrend with an accounting software that's OK! You will also have the ability to manually create and save sales tax rates and apply them to invoices, for the purpose of calculating and communicating liability.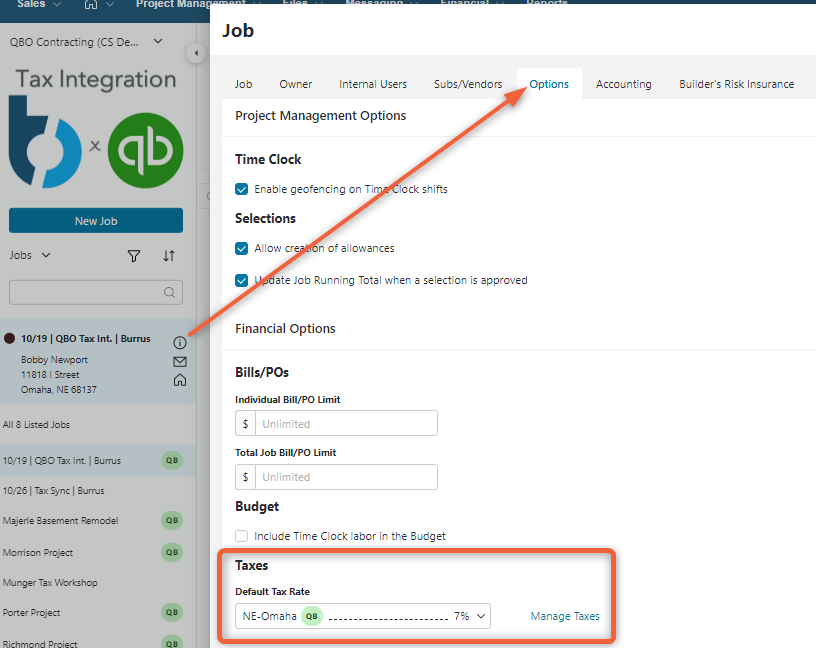 Specific features in this release:
You can create and manage U.S. tax rates in Buildertrend – including custom rates, and localized rates automatically created by QuickBooks.

Buildertrend's Owner Invoices now has a tax layout section that includes state tax rates (sometimes including city and county rates depending on jurisdiction) and an in-line display of tax and summary (subtotal, tax breakout and total with tax).

You have the option to manually override the QuickBooks automated rate if necessary, providing full flexibility in how you manage your jobs and bill your clients.

Jobs can be assigned a default tax rate that will automatically apply to any invoice created for a job, making for a consistent experience. A job's default rate can be changed at the invoice level if needed.

When invoice information is updated as a result of Buildertrend's sync with QuickBooks Online, you have the option to be notified by email or an alert on your mobile device. This ensures all team members on a job stay informed.
Notes:
This release is specifically for the QuickBooks Online integration in the U.S., or U.S. users who don't connect to an accounting platform.

Regarding the mobile app, you can 'View' taxes on Owner Invoices and 'Apply' taxes on Owner Invoices, but the mobile app does not support the ability to view the default tax rate in 'Job Details' or 'Manage Taxes' (you cannot create or edit tax rates/groups on mobile).
---
What's coming?
Our next release (already in production) will allow you to add sales tax to other financial features in Buildertrend (e.g., Change Orders, Selections, Proposals and Estimates).
We are taking feedback and monitoring the desire for mobile app functionality, tax reporting, and support for users outside the U.S. (e.g., Canadian taxes, Australian taxes, linking to XERO, etc.).
---
How can I provide feedback on this release?
To provide suggestions click What do you think of this roadmap item? on the left side of the page.
We regularly review feedback in order to continuously improve Buildertrend. By analyzing this feedback we can identify areas for improvement, prioritize development efforts, and make enhancements that will better meet your needs. This ongoing process of review and improvement helps us ensure Buildertrend remains a valuable and effective tool.
How can I learn more?
If you have questions about this release or desire training, contact our Customer Support team: